(500) Days of Summer
Follow @hearwax
The romantic comedy subgenre has been stuck in a rut for quite a long time. By just looking at the crop of new rom-coms, a person could magically predict the events and ending of the film without even viewing it.  Luckily, 500 Days of Summer does not get lumped in with those previously mentioned romantic comedies. 500 Days of Summer is music video director Marc Webb's first foray into feature films. The film follows Tom (Joseph Gordon-Levitt), a young hopeless romantic, who falls in love with Summer (Zooey Deschanel), a young woman who doesn't believe in love. The film chronicles the 500 days of Tom's involvement with Summer, beginning from when he sees her for the first time until he finally moves on. The movie has a narration throughout and it gives the film a fairytale quality. The story is told out of order flipping back and forth to different days of their relationship.  It begins with the breakup between Tom and Summer. Tom is completely devastated by the breakup and tries to figure out why the relationship didn't work and how he can get Summer back.
Even though it's technically a romantic comedy, it deserves a better classification. It's too bad that there isn't another term for it since the film is on a completely different level than any other romantic comedy that has come out in the last decade. Marc Webb is able to craft a film so wonderful that it surpasses every romantic comedy that has come before it because it has something that the others do not. This film has a feeling of reality. The film is like other romantic comedies in the sense that the boy and the girl live happily ever after but it occurs in a very non-conventional way especially since the traditional happy ending is used heavily in romantic comedies.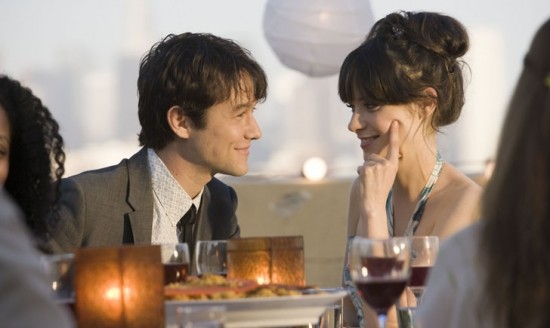 The film contains fantastic scenes such as a dance sequence through the streets that occurs because of Tom's extreme happiness. My favourite scene is a split screen sequence that shows Tom's expectations on one side of the screen and reality on the other; it's a brilliant technique that is executed flawlessly in the film.  The performances are great across the board because the characters seem real rather than the bland cardboard cutout stereotypes that grace most films in the genre. Joseph Gordon-Levitt gives a heartfelt performance and Zooey Deschanel plays the dream girl pitch perfectly. The supporting cast such as his two goofy best friends, Paul (Matthew Grey Gubler) and McKenzie (Geoffrey Arend), are hilarious and provide comic relief.
The film also boasts a terrific soundtrack that has potential to be the next hit. I prefer this soundtrack or something like Nick & Norah's Infinite Playlist because it's more upbeat rather than solemn folk music from Juno. It also contains one of my favourite quotes of any movie in the past year is in this film. The film can be summed up in one perfect little quote and that is "My wife is better than my dream girl because she's real".
The best part about the film is that anyone can relate to it because everyone has been through a similar relationship that Tom and Summer have in the film. At one point in their life, I'm sure that everyone has met that girl or guy that they believed would be the solution to all their problems but it just doesn't work out that way. 500 Days of Summer is such a wonderful and magical movie that it gives me butterflies and goosebumps just thinking about it. I know that makes me sound like a total girl, but I don't care because I love the movie that much. The film is extremely optimistic even through the worst periods of Tom's involvement with Summer and it will leave you with a feeling of happiness and hope. It doesn't matter who you are, go see 500 Days of Summer and I guarantee that you will love it.
(9.0/10)